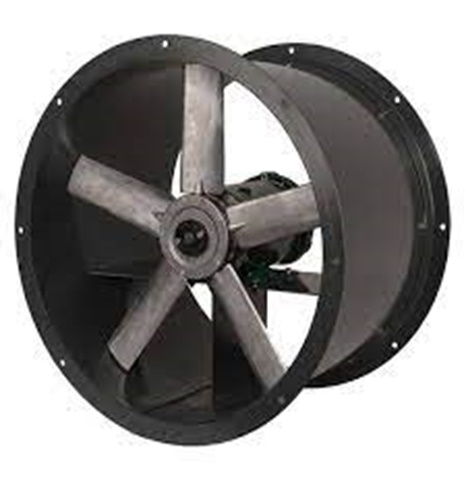 APPLICATION
The fan is intended for all types of general ventilation installations. Typical uses are:
General ventilation of commercial premises and industrial halls
Ventilation of warehouses and storage warehouses
Ventilation of garages and public utility buildings, etc.
CONSTRUCTION
Blades and hub are made of cast aluminum, dynamically balanced according to ISO 1940-1
Aerofoil impeller with adjustable pitch angel
Long casing steel housing according to DIN EN 1SO 1461
Inspection cover on the housing
Installation in a horizontal and vertical position
Suitable to operating temperature of up to +60°C.
Connection flange and mounting feet.
Efficient IEC standard motor, efficiency class IE3, UL certified, frequency controllable.
Discharge pushing over the motor.
Degree of protection IP 55, insulation class F.
Terminal box mounted at the outside of casing for easy wiring.
Suitable for outdoor installation
Sizes from 315 mm up to 1600 mm diameter
SPECIAL EXECUTIONS
Apply to smoke, fire and other hot sources with working temperature 400°C/ 120 min
Painting in a color other than the standard.
Painting in a color other than the standard.
Galvanized steel sheet housing.
Housing made of stainless steel.
Housing made of acid-proof steel.
Motor for other than standard voltage and power frequency.
Engine with a different degree of protection.
Motor with a different insulation class.
TECHNICAL CHARACTERISTICS & PERFORMANCE CURVES
AXF 315
 

Item

Speed
Power
Air Flow
Total Pressure
Noise       Article Number
rpm
Kw
m³/h
Pa
dB
 

 

AXF 315 D4 01

 

1440

 

0.09

1450
60
58
1542201
1800
58
60
1542202
2000
55
61
1542203

 

AXF 315 D4 F4 01

 

1440

 

0.09

1450
60
58
1542270
1800
58
60
1542271
2000
55
61
1542272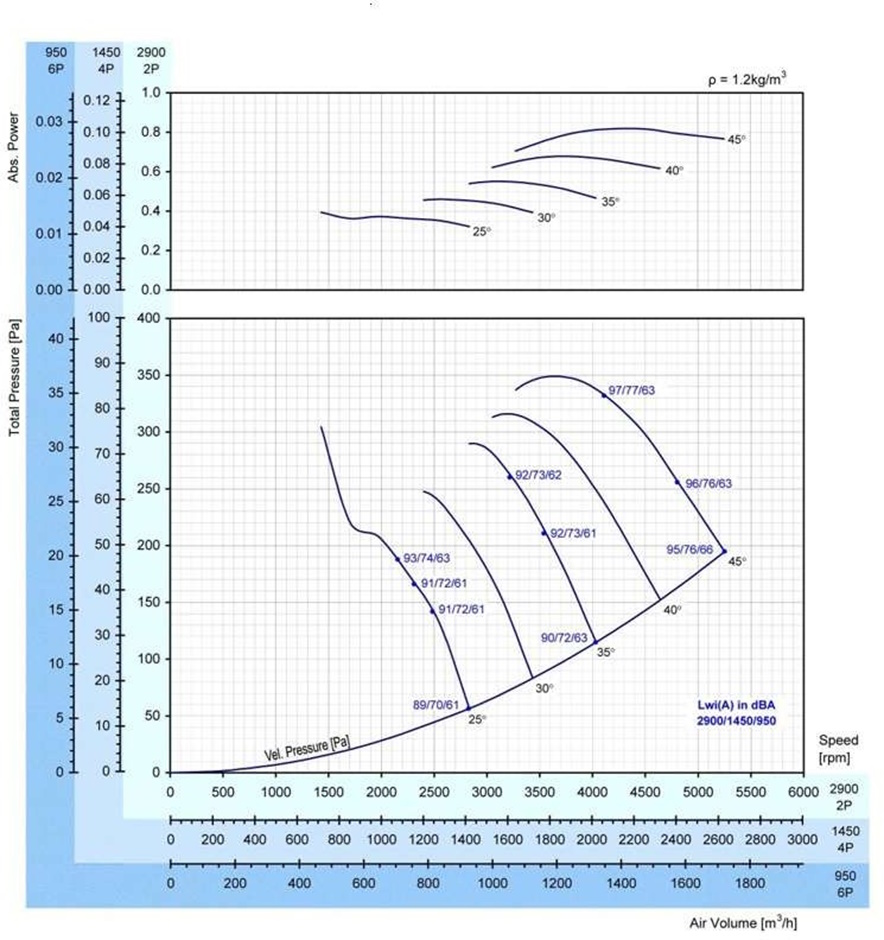 AXF 355
 

Item

Speed

Power

Air Flow

Total Pressure

Noise          Article

rpm

Kw

m³/h

Pa

dB

 

AXF 355 D4 01

 

1400

 

0.12

2075

75

59

1542204

2570

70

61

1542205

2860

69

62

1542206

 

AXF 355 D4 F4 01

 

1400

 

0.12

2075

75

59

1542273

2570

70

61

1542274

2860

69

62

1542275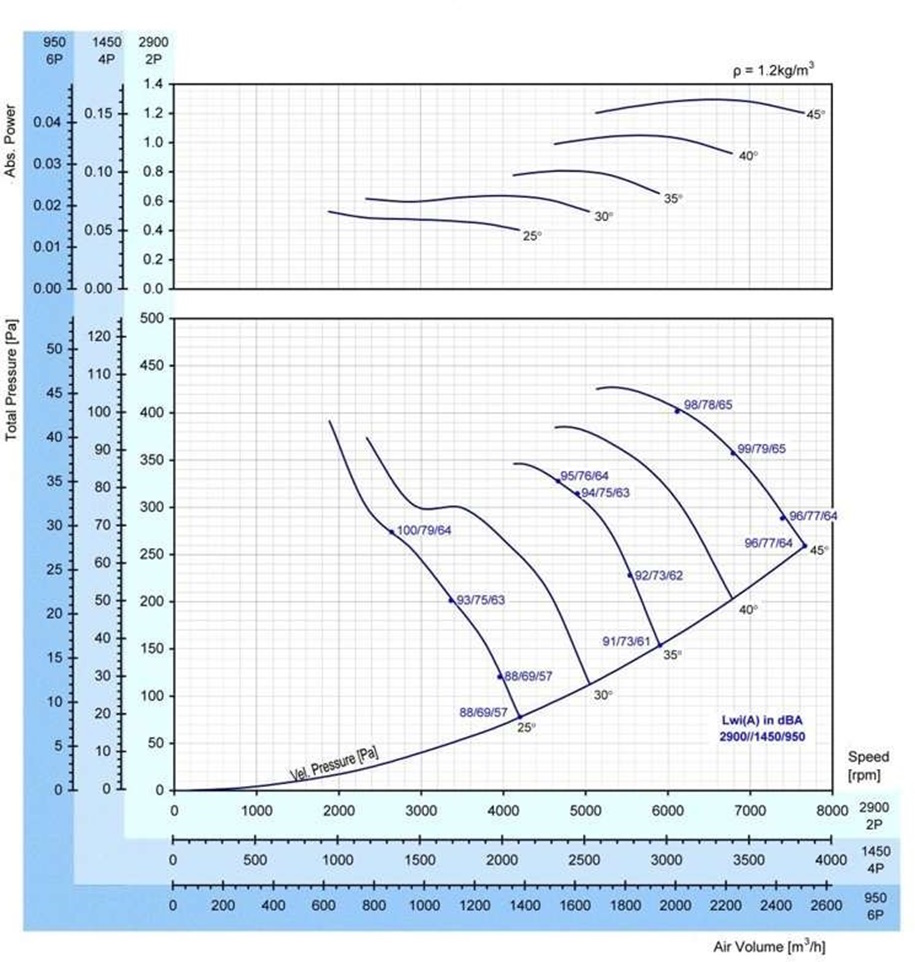 AXF 400
 

Item

Speed

Power

Air Flow

Total Pressure

Noise          Article Number

rpm

Kw

m³/h

Pa

dB

 

 

AXF 400 D4 01

 

1400

 

0.25

3100

95

63

1542207

3700

90

64

1542208

4300

88

66

1542209

 

AXF 400 D4 F4 01

 

1400

 

0.25

3100

95

63

1542275

3700

90

64

1542276

4300

88

66

1542277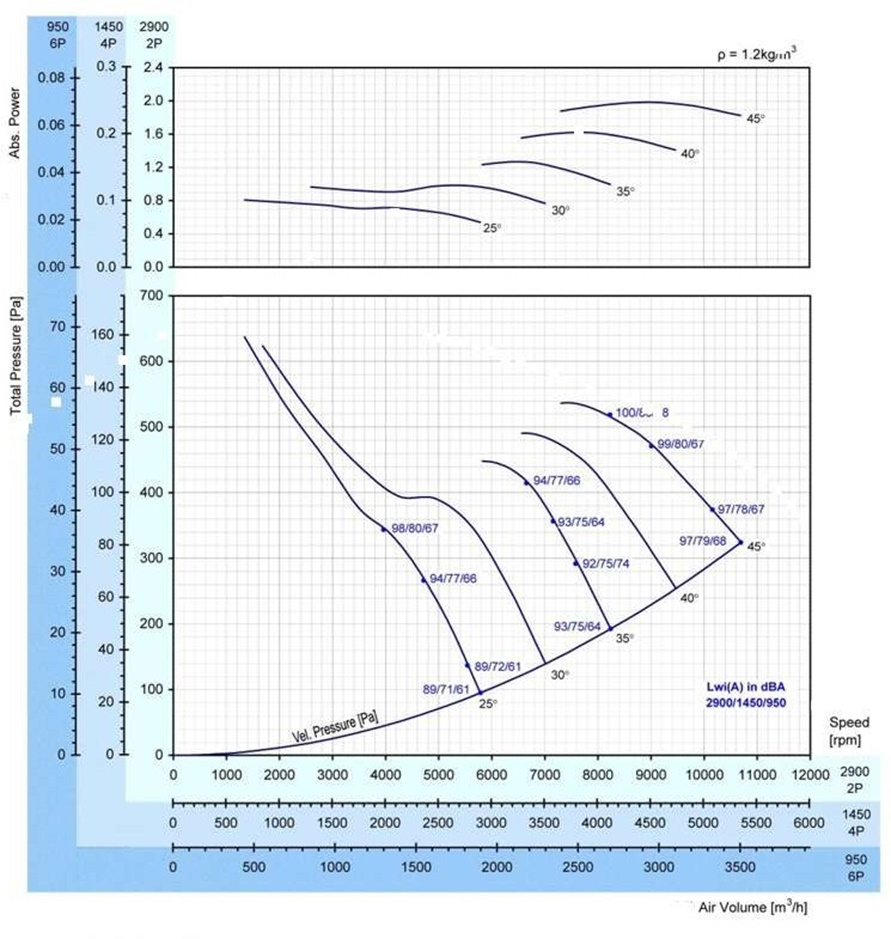 AXF 450
 

Item

Speed

Power

Air Flow

Total Pressure

Noise          Article Number

rpm

Kw

m³/h

Pa

dB

 

 

AXF 450 D4 01

 

         1400               0.55

4500

120

65

1542210

4900

115

66

1542211

5500

110

68

1542212

 

AXF 450 D4 02

 

 

0.75

4600

140

66

1542213

5700

135

67

1542214

7000

132

69

1542215

 

AXF 450 D4 F4 01

 

 

 

 

 

1400

 

0.55

4500

120

65

1542278

4900

115

66

1542279

5500

110

68

1542280

 

AXF 450 D4 F4 02

 

0.75

4600

140

66

1542281

5700

135

67

1542282

7000

132

69

1542283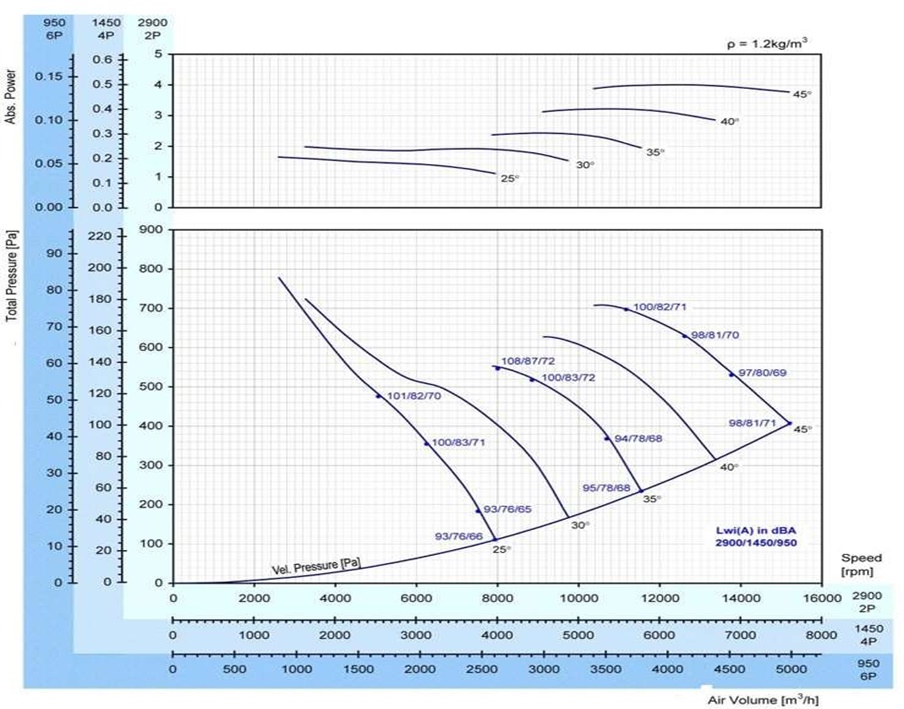 AXF 500
 

Item

Speed

Power

Air Flow

Total Pressure

Noise      Article Number

rpm

Kw

m³/h

Pa

dB

 

 

AXF 500 D4 01

 

1420

 

0.55

6900

150

68

1542216

7200

130

69

1542217

8500

110

71

1542218

 

AXF 500 D4 F4 01

 

1420

 

0.55

6900

150

68

1542284

7200

130

69

1542285

8500

110

71

1542286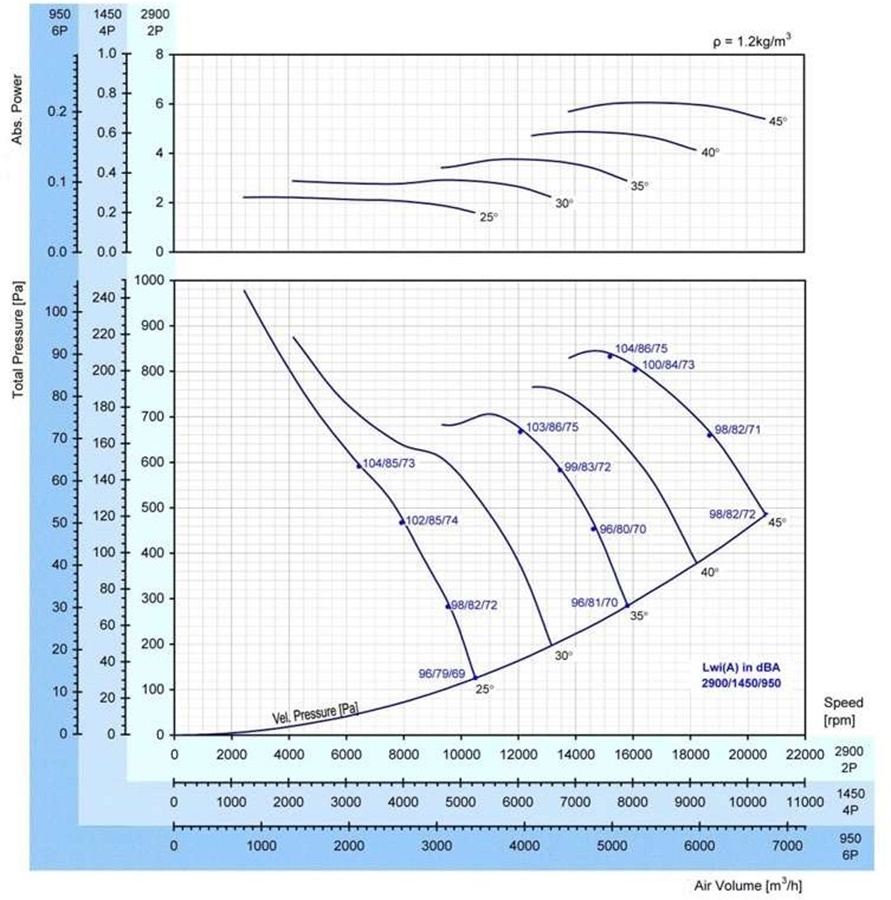 AXF 560
 

Item

Speed

Power

Air Flow

Total Pressure

Noise          Article

rpm

Kw

m³/h

Pa

dB

 

AXF 560 D4 01

 

1450

 

0.75

9000

200

71

1542219

10000

180

69

1542220

11000

160

71

1542221

 

AXF 560 D4 F4 01

 

1450

 

0.75

9000

200

71

1542287

10000

180

69

1542288

11000

160

71

1542289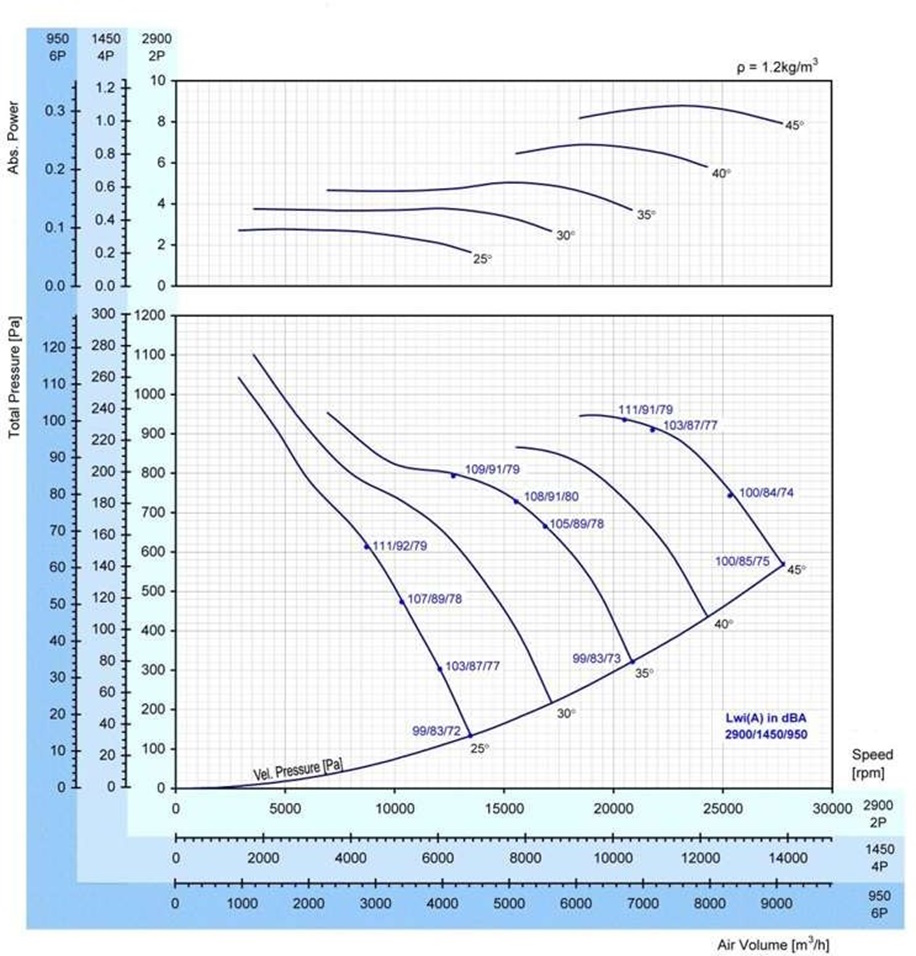 AXF 630
 

Item

Speed

Power

Air Flow

Total Pressure

Noise          Article Number

rpm

Kw

m³/h

Pa

dB

 

 

AXF 630 D4 01

 

1450

 

1.1

12600

220

74

1542222

14500

200

75

1542223

16000

180

76

1542224

 

AXF 630 D4 01

 

1450

 

1.1

12600

220

74

1542290

14500

200

75

1542291

16000

180

76

1542292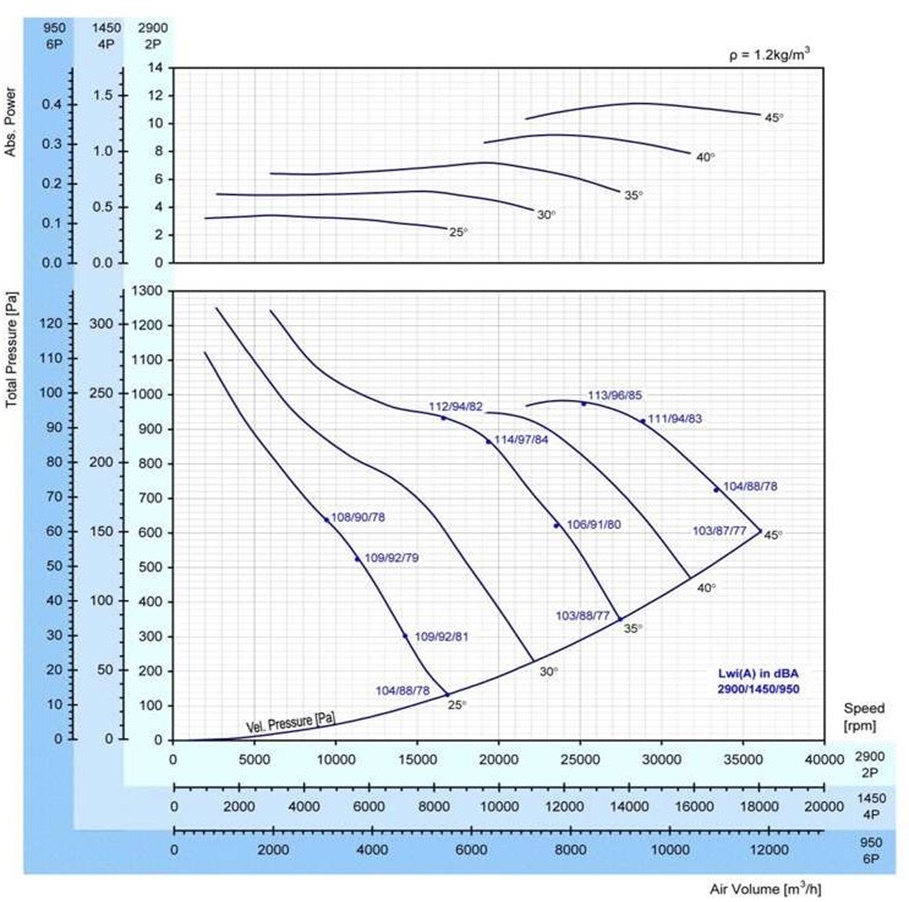 AXF 710
 

Item

Speed

Power

Air Flow

Total Pressure

Noise          Article Number

rpm

Kw

m³/h

Pa

dB

 

 

AXF 710 D4 01

 

       1.5

14500

250

76

1542225

16500

220

77

1542226

18000

200

78

1542227

 

AXF 710 D4 02

 

1450

 

3

18000

370

79

1542228

20000

330

78

1542229

21000

290

80

1542230

 

AXF 710 D4 03

 

4

20000

400

80

1542231

21500

370

81

1542232

23000

330

81

1542233

 

AXF 710 D4 F4 01

 

 

 

 

 

1450

 

1.5

14500

250

76

1542293

16500

220

77

1542294

18000

200

78

1542295

 

AXF 710 D4 F4 02

 

3

18000

370

79

1542296

20000

330

78

1542297

21000

290

80

1542298

 

AXF 710 D4 F4 03

 

4

20000

400

80

1542299

21500

370

81

1542300

23000

330

81

1542301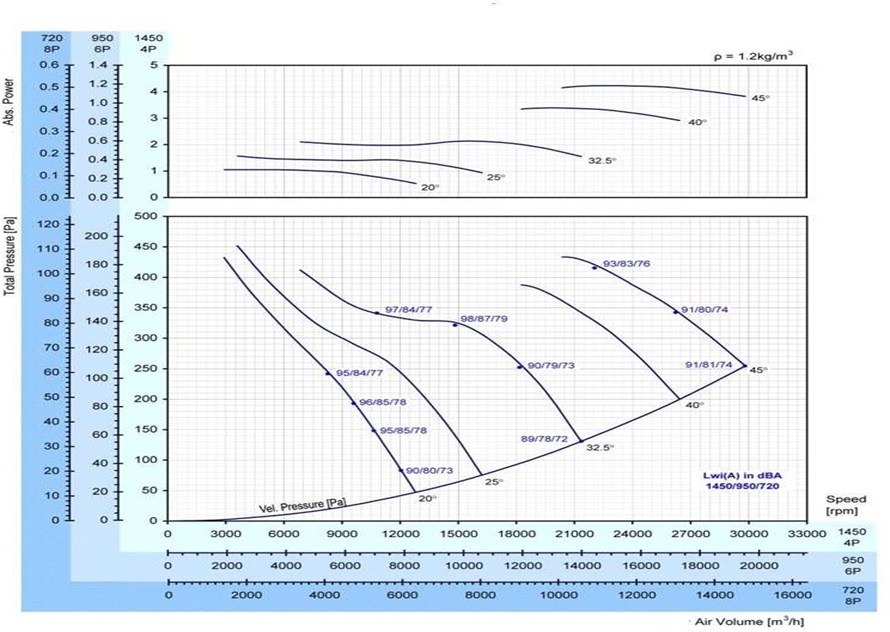 AXF 800
 

Item

Speed

Power

Air Flow

Total Pressure

Noise          Article Number

rpm

Kw

m³/h

Pa

dB

 

 

AXF 800 D4 01

 

4

23000

330

79

1542234

25000

300

80

1542235

28000

290

80

1542236

 

AXF 800 D4 02

 

1450

 

5.5

25000

400

84

1542237

27200

360

84

1542238

30000

330

84

1542239

 

AXF 800 D4 03

 

7.5

28000

450

85

1542240

31000

430

86

1542241

33000

400

86

1542242

 

AXF 800 D4 F4 01

 

 

 

 

1450

 

4

23000

330

79

1542302

25000

300

80

1542303

28000

290

80

1542304

 

AXF 800 D4 F4 02

 

5.5

25000

400

84

1542305

27200

360

84

1542306

30000

330

84

1542307

 

AXF 800 D4 F4 03

 

7.5

28000

450

85

1542308

31000

430

86

1542309

33000

400

86

1542310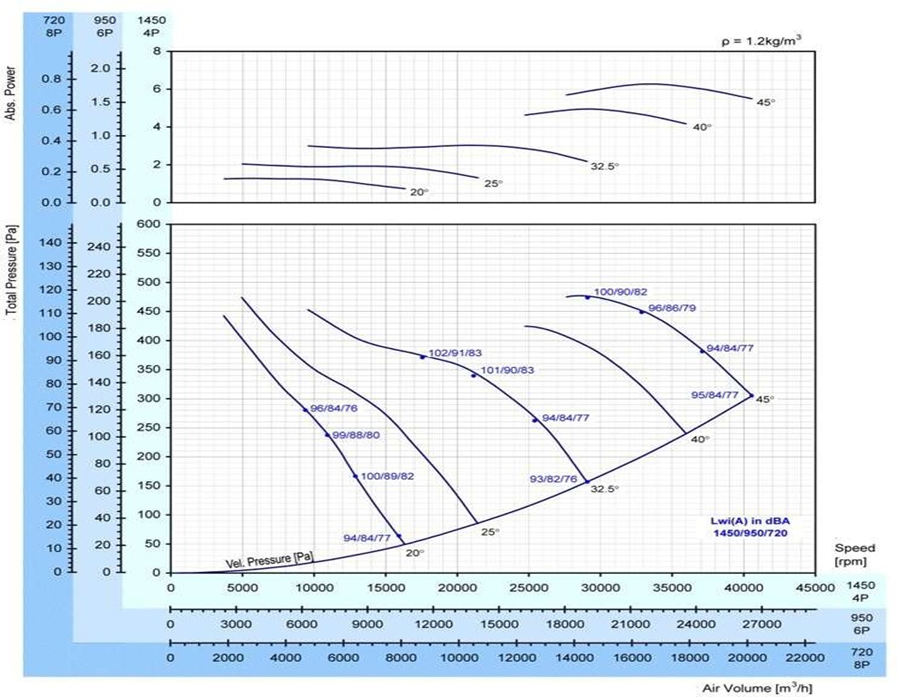 AXF 900
 

Item

Speed

Power

Air Flow

Total Pressure

Noise          Article Number

rpm

Kw

m³/h

Pa

dB

 

 

AXF 900 D4 01

 

1450

 

11

36000

515

86

1542243

39000

470

86

1542244

43000

380

86

1542245

 

AXF 900 D4 F4 01

 

1450

 

11

36000

515

86

1542310

39000

470

86

1542311

43000

380

86

1542312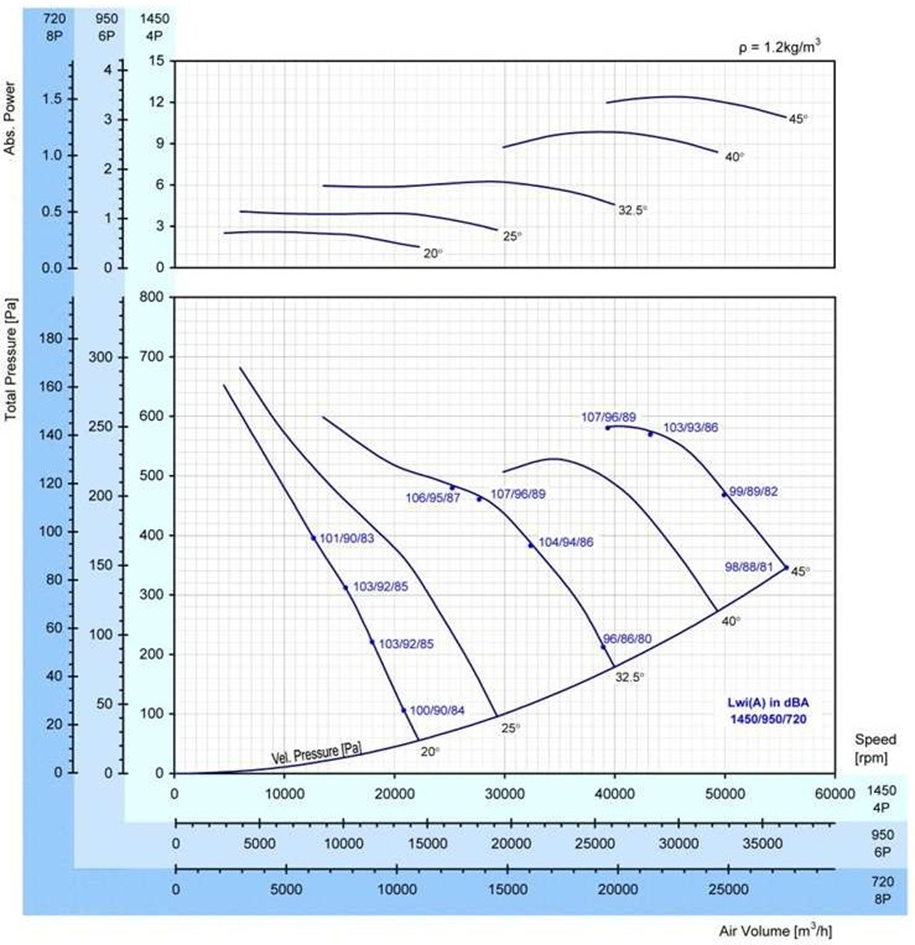 AXF 1000
 

Item

Speed

Power

Air Flow

Total Pressure

Noise          Article Number

rpm

Kw

m³/h

Pa

dB

 

 

AXF 1000 D4 01

 

15

46200

520

86

1542246

54680

487

87

1542247

57700

450

87

1542248

 

AXF 1000 D4 02

 

1450

 

18.5

52000

605

87

1542249

57500

560

88

1542250

62400

450

88

1542251

 

AXF 1000 D4 03

 

22

64700

670

88

1542252

67500

615

89

1542253

71400

550

89

1542254

 

AXF 1000 D4 F4 01

 

 

 

 

 

 

1450

 

15

46200

520

86

1542313

54680

487

87

1542314

57700

450

87

1542315

 

AXF 1000 D4 F4 02

 

18.5

52000

605

87

1542316

57500

560

88

1542317

62400

450

88

1542318

 

AXF 1000 D4 F4 03

 

22

64700

670

88

1542319

67500

615

89

1542320

71400

550

89

1542321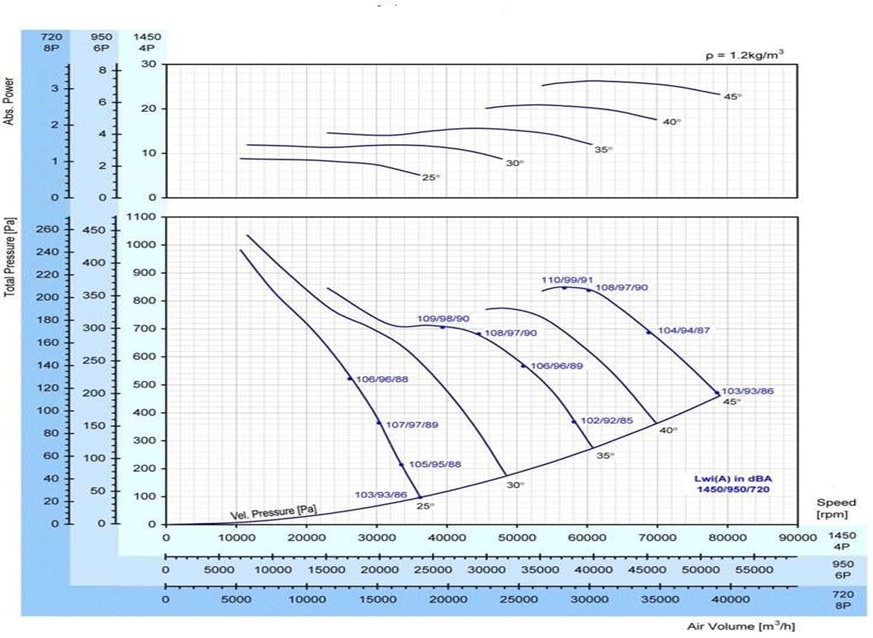 AXF 1120
 

Item

Speed

Power

Air Flow

Total Pressure

Noise          Article Number

rpm

Kw

m³/h

Pa

dB

 

 

AXF 1120 D6 01

 

960

 

11

50000

460

84

1542255

56000

420

85

1542256

63000

380

85

1542257

 

AXF 1120 D6 F4 01

 

960

 

11

50000

460

84

1542322

56000

420

85

1542323

63000

380

85

1542324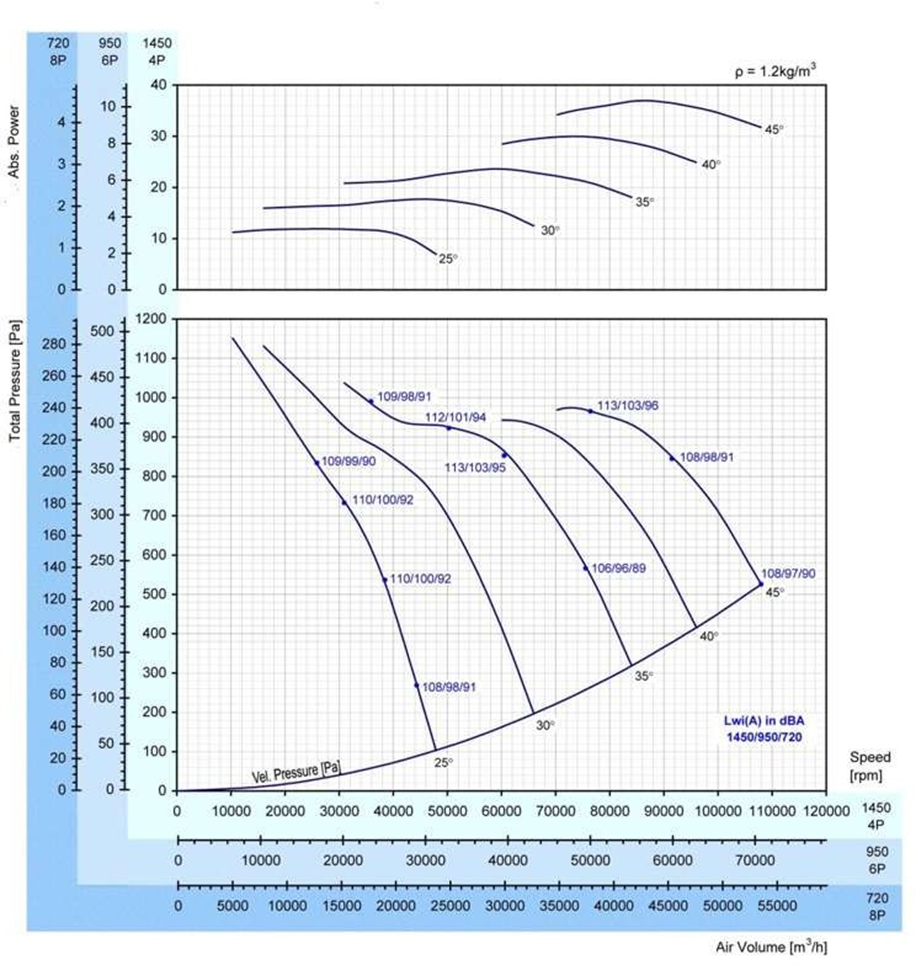 AXF 1250
 

Item

Speed

Power

Air Flow

Total Pressure

Noise          Article Number

rpm

Kw

m³/h

Pa

dB

 

 

AXF1250 D6 01

 

960

 

15

60000

530

89

1542258

66000

500

90

1542259

72000

490

91

1542260

 

AXF1250 D6 F4 01

 

960

 

15

60000

530

89

1542325

66000

500

90

1542326

72000

490

91

1542327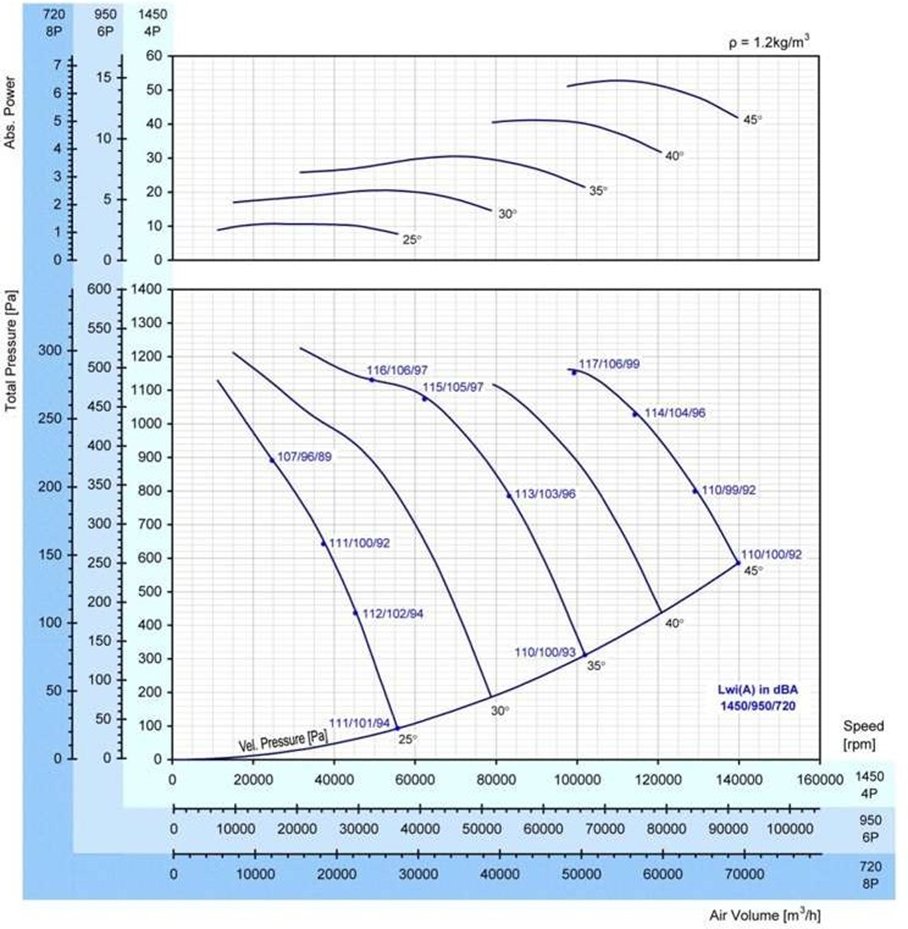 AXF 1400
 

Item

Speed

Power

Air Flow

Total Pressure

Noise          Article Number

rpm

Kw

m³/h

Pa

dB

 

 

AXF 1400 D6 01

 

         22

75000

600

93

1542261

80000

560

94

1542262

86000

500

95

1542263

 

AXF 1400 D6 02

 

960

 

30

80000

670

95

1542264

90000

640

96

1542265

100000

600

96

1542266

 

AXF 1400 D6 03

 

37

95000

730

98

1542267

108000

680

99

1542268

120000

630

99

1542269

 

AXF 1400 D6 F4 01

 

 

 

 

 

 

960

 

22

75000

600

93

1542328

80000

560

94

1542329

86000

500

95

1542330

 

AXF 1400 D6 F4 02

 

30

80000

670

95

1542331

90000

640

96

1542332

100000

600

96

1542333

 

AXF 1400 D6 F4 03

 

37

95000

730

98

1542334

108000

680

99

1542335

120000

630

99

1542336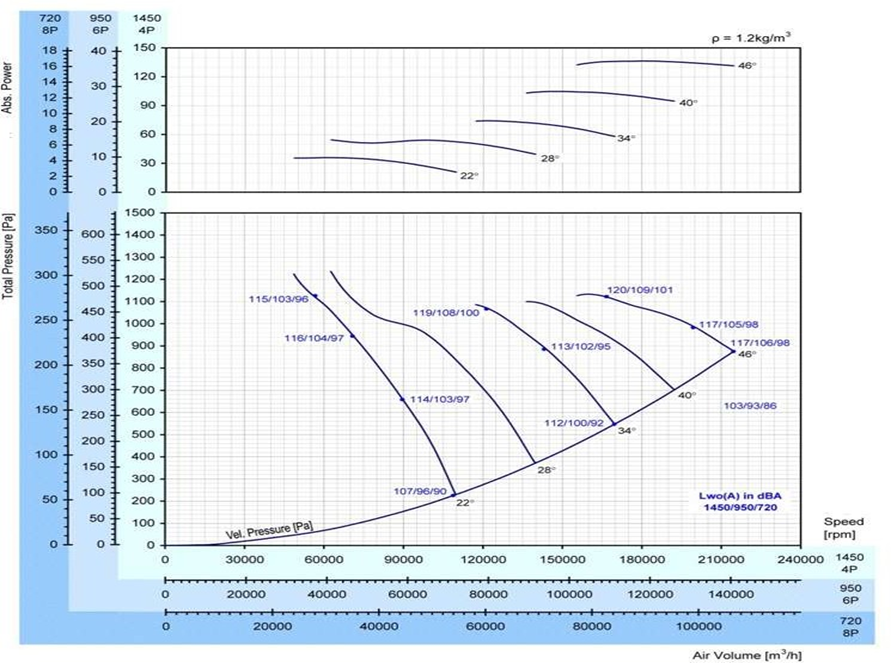 AXF 1600
 

Item

Speed

Power

Air Flow

Total Pressure

Noise          Article Number

rpm

Kw

m³/h

Pa

dB

 

 

AXF1600 D6 01

 

720

 

22

100000

430

91

1542336

120000

390

92

1542337

135000

350

92

1542338

 

AXF1600 D6 F4 01

 

720

 

22

100000

430

91

1542339

120000

390

92

1542340

135000

350

92

1542341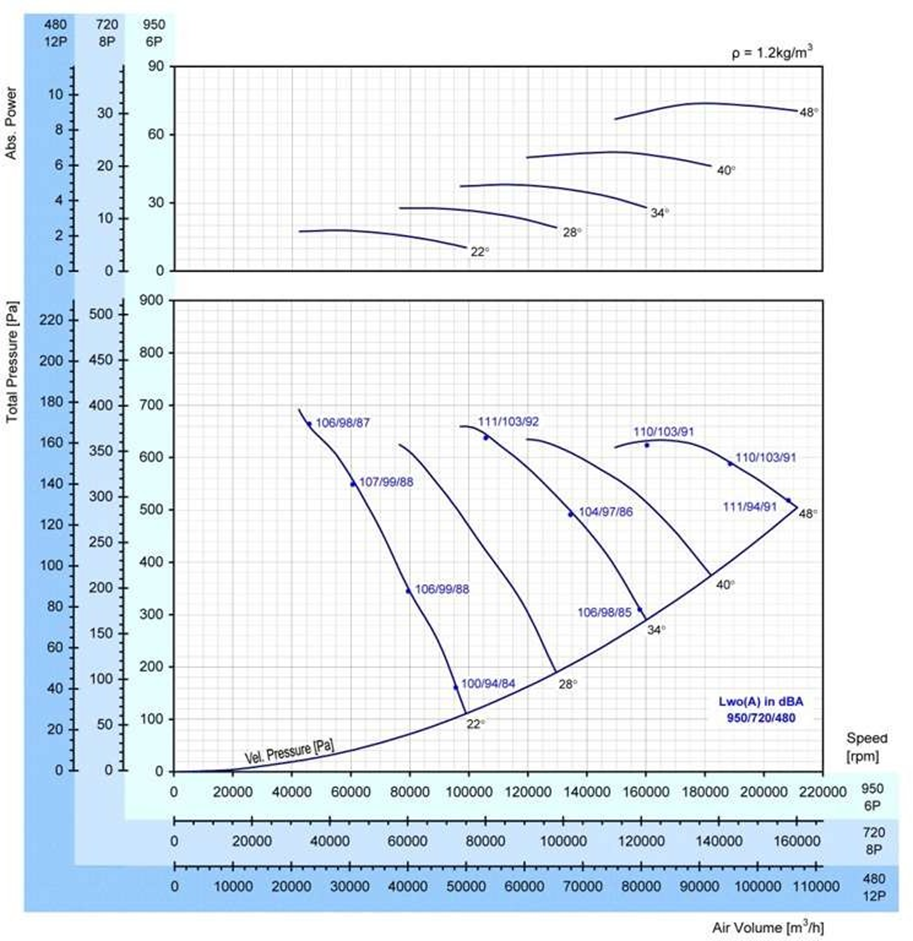 AXF Fan
Vibration Isolator
Mounting Feet
Wire Guard
Flexible Connector
Matching Flange
Back Draft Shutter
Sound Attenuator